People who read the VEED blog make 4X more video content using VEED than those who don't and we couldn't have done this without amazing writers!
Here are 7 things I've learned from hiring and managing dozens of writers that set apart the amazing ones from newer ones.
1. They ask questions and pitch their suggestions
Every writer I hire these days is briefed on VEED and its content. They're naturally curious and know what to ask that I didn't already answer. Great writers bring things up to me that help me do a better job and attract more great writers.
They're not afraid to set expectations because they know what they need to do their best work.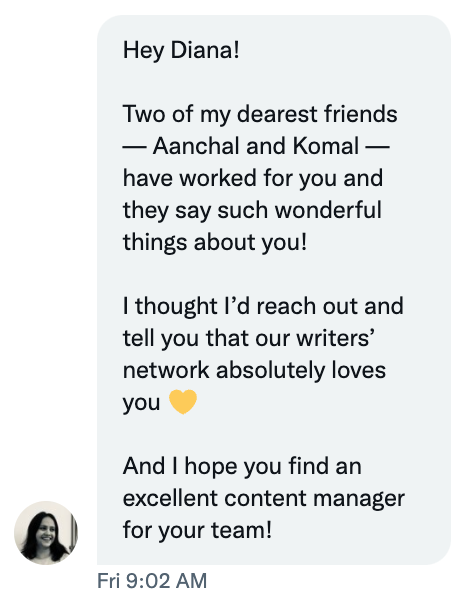 The worst habit a writer can have is being a people pleaser in all the wrong ways.
Client: We need this 3,000-word article in two days.
Writer: I can do it in a 24-hour turnaround time
They listen but they never object. Their replies anxiously grasp at whatever might please the client.
So if a writer doesn't ask me a single question about our content, our company, and our customers or can't explain their process a red flag.
2. They disagree and can explain why from experience
While I may have laid out the map for a blog's success, content is a collaborative effort. You might find a more effective way than I did to go from point A to point B in certain parts.
It's a HUGE red flag when a potential new writer is on a call with me and they say little besides agreeing with everything I say. Writers who don't speak up, ask questions, and share how they work tell me a few things:
They won't challenge me even if I'm wrong therefore making the quality of the content potentially suffer
They won't communicate if they might miss a deadline due to fear and/or shyness
They lack enough experience to know how to deliver great content
They won't contribute valuable insight when working together
If you're scared of asking questions and telling a potential client/employer what you need to do your best work—I get it. I can be shy and used to be deathly shy. I also used to think I'd come off as "difficult".

But after hiring so many incredible writers I see how important it is to put your thoughts out there. It not only helps the content but it makes working together much more enjoyable for us both.
In any relationship you have in life, communication is the not-so-secret ingredient to making magic together.
3. Great writers are also great marketers who make an effort to market themselves
You can read all the articles and take courses but there's a night and day difference between:
Writers who market themselves and build relationships.
Writers who don't invest time into their own marketing and network.
I strongly gravitate toward writers who market themselves considering VEED is an online video creation and editing tool where our customers actively post to social media. To be clear, I'm NOT expecting writers to have 10K+ followers. Although I admit, this can sometimes be a bonus in terms of the relationships they've built.
Because so much of our content covers social media best practices around video, there's only so much I can explain in a brief without writing a whole book.
Most content about social media ranking on SERPS is garbage even when it comes from big-name brands you think would know better. It helps if writers know how some platforms work from experience and not just reading blogs and asking around.
Now let's talk about a writer's network from my perspective as the client:
Writers who can charge more are more than "just" a good writer, they're well connected and lifelong learners who can provide a better experience than the rest.
I don't want to say that anybody can write a great blog because great writing is not that simple. Becoming great at anything is hard.
But the truth is there are loads of great writers trying to be seen. And when I make a decision I ask myself a few things:
1. Will this writer be able to write great content I won't spend an unnecessary amount of time editing?
They're ruthless self-editors who kill their "word babies" in the name of delivering the most effective solution to a problem for our target audience.
They have testimonials from people and brands known for repeatedly producing really fucking good content.
2. Is this someone who can make my job easier?
They know interesting people who can contribute value to an article
They write for high-authority sites and could help facilitate an introduction or build links for us (and their client) in blogs they write.
Their email or DM pitching themselves is not an unstructured mess of word vomit that doesn't exemplify their ability to write well.
4. They write really good DMs and emails
If a writer sends a 2,000-character message that could've been 500 characters I assume they cannot self-edit well enough.
Every strong writer I've worked with has sent me a concise and intriguing DM. The ones whose skillset isn't quite there yet have sent painfully long messages listing off everything they've ever done and thought.
While there are surely thousands of amazing things about you nobody wants to read all of them. At least not in the first interaction.
Condense your message so you highlight the 1-3 most impressive factors about you and your work. And then, look at how you structured the words and ideas in your message.
And please never apologize for pitching yourself. If you're in someone's inbox to pitch your work it's because you think your work is great and worthy of their attention. Apologizing for existing in their messages downplays your worth.
✏️
Pro Tip: Here are some things to ask yourself before you hit send...

Are the ideas in your message positioned in a way that makes the reader want to read the next sentence?

Is each sentence leading with the most interesting part so you capture attention earlier on in the sentence structure?

Did I spend some time doing research on this person and their content so I don't ask something a quick search could've told me?
5. They share measurable results their work contributed to
When asked for samples and a brief explanation about why those samples are your best work, anybody can say:
I write a lot about A, B, C
The client said they really liked it
I did lots of research on this blog
But not enough writers can answer questions about how their work contributed to an end result such as:
Are you ranking #1 or in the top 5 of SERPS for any target keywords?
Did you write the highest converting or highest traffic blog?
How much traffic is your content driving?
I understand you might not have direct access to performance metrics. And perhaps some of these details the client chooses to keep confidential.
But from my personal experience, I find most writers never bother to ask for them anyway...
Take for example this quick report I created for Mako, one of our writers. I'm happy to share this not only to help writers build their portfolios but also to help them see what great content looks like.
I believe people are more motivated to consistently do great work when they not only know they're appreciated but also get to see how their work made an impact.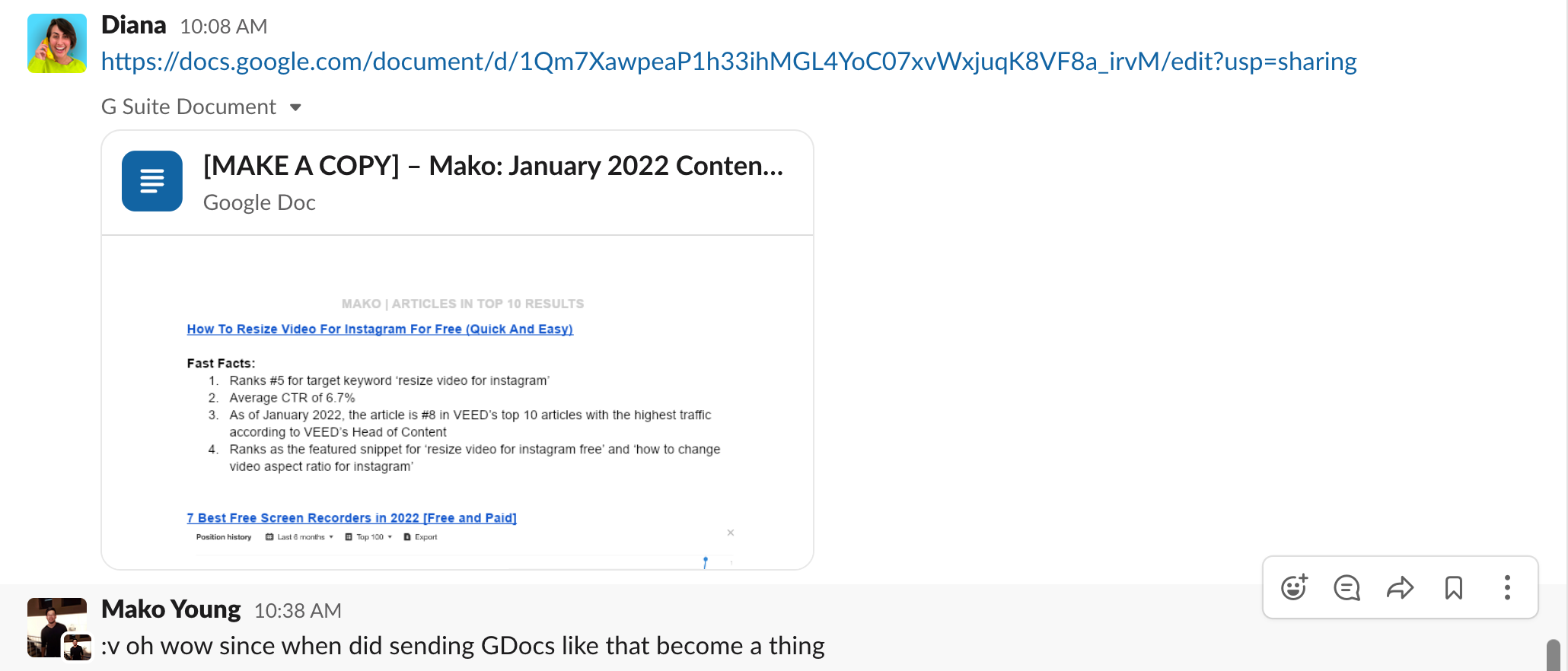 If you don't ask you'll definitely never get. Always ask. The worst that can happen is you get a 'no' and move on to find clients who will be more generous with non-confidential information. 🤷‍♀️
✏️
Pro Tip: Don't work with clients who aren't willing to give you any insight at all into your content's performance. Ask before you sign anything so you can make sure you're adding valuable work to your portfolio.
6. They pay attention to detail
I wish I could say the best briefs are actually brief. But I've found my more detailed briefs give the writers I work with the clarity and confidence to focus their efforts and creativity in the right direction.
My content briefs and outlines are basically a map for success. And in a brief, there are often links to things such as:
Guidelines and style guide
Related terms to include
Original research
I expect writers who produce quality content hold themselves to a high standard. So yes, I check if you looked at it in the doc history.
After my first 3 months of hiring VEED's first writers, I kept feeling like some articles weren't the product of someone who read the brief.
I always point fingers back at myself first so I'm like okay...how did I fail this writer? What can I do better?
But I soon realized I can do all the right things but I can't fix someone else's laziness and lack of commitment to excellence.
From there, I began to purposefully (and randomly) NOT grant view-only access to the g-docs inside the briefs. It became a quick and easy way for me to know which new (and existing) writers lack the thoroughness we need.
7. They own their time and are not afraid to turn down an article
The best writers own their time and have the self-awareness to know how much work they can realistically take on. They don't overextend themselves at the expense of sacrificing the quality of the client's work.
Instead, they know exactly how they need to operate to not only make their clients happy but also feel fulfilled by the work they do and how they do it.
In any field—it takes time to get to this point where you have the luxury of taking a select number of clients, turning down work and raising your rates because you have the track record to back it.
If I had a penny for every writer in my DMs and email who pitch me a 24-hour turnaround time I'd have a sack full of coins 🤣
If a client wants a quality writer to deliver faster then in that case you should:
charge a rush fee to bump the priority level up
make sure you communicate the rush fee before signing to avoid pricing surprises that fracture any built trust
But time in itself normally doesn't speak to the quality of your work.
Anyone can type a bunch of words into a mediocre piece of long-form content. But a small number of people know how to deliver quality and quality normally takes way more than 24 hours.
Enjoyed this read? Retweet me and tell me your favorite takeaway!
P.S. While I'm not hiring any new freelancer writers at the moment, I'm open to receiving pitches to go through whenever I need to hire a new cohort. Send an email to d[at]veed.io and put Writer Pitch in the subject line so your message is filtered properly.