With more demand than there's a supply of jobs, it's critical you learn how to become the top 1% of applicants. If not, you get skipped over.
In this month's issue of the Unskippable Creator, I'm going to give you advice in 5 minutes (or less) from my POV as a hiring manager scaling a content team.

And if you prefer to read the full-length piece, here's a link to that too.
Freelancer or employee—the three next tips apply to you.
1. Prove your business value → Get your resume through the "door"
Anyone can say they were responsible for a laundry list of tasks and initiatives. Few can speak to how those things were successful.
Don't just say WHAT you did.
Touch on WHY it's impressive.
❌
Bad
Responsible for the company blog and Instagram
✅
Good
Grew blog traffic from 0 to 160K monthly organic visits in 16 months and developed all strategies and documentation as a one-person team

Grew the VEED Instagram account from 0 to 6K real followers and a 9% engagement rate (9X higher than all our competitors who max out at 1% ER or lower)
2. Share stories that prove you're a problem solver
From the hiring manager's end, the interview is a chance to see if you really did the things you said you did, can both strategize and execute, and if your brand of content thinking aligns with the company.
Most failed interviews produce a word salad of tactics and buzzwords that don't come together into a clear story with the problem, blockers, how things were resolved, and outcomes. Maybe it's anxiousness. Maybe it's not knowing how to put it. Or maybe a mix of both.
But when you package up your wins into stories they should address as many of the below points as possible:
What…
What was the problem?
What hurdles were you facing to solve it?
What inputs did you take into consideration to make content decisions to multiply the success of your KPIs?
What was your role/degree of involvement in reaching the solution?
What did collaboration look like if other teams had to get involved?

Why…
Why was the problem there in the first place?
Why did you consider the inputs you took into consideration to make big content decisions?

How…
How did you solve it (tell me the steps you took)?
How did you address the hurdles you noticed at first?
How would you do better if you had to do it all over?
How did you get buy-in for your ideas?

3. Create a more thoughtful cover letter (or cold messages) for the applications you care about most
Most messages I manage to see aren't strong because they simply say something like…
"Hey I applied and think I'm a great fit" with no context explaining why
They copy/paste their exact application into a message
Asking if I can check if the application went through
I recently saw an applicant in my DMs that sent me a short well-structured message with an engaging bite-sized video intro of themselves. It gave me the TL;DR of their most relevant achievements + what about them and their goals make them the best for the role.
Thanks to their message, I made sure to bump their application to the screening phase where they'd get an initial interview.
If you message a hiring manager, do so in a way that makes every word count. Surface the highlights. Make it easy to digest and get them excited about you.
Throw in a video if you're feeling extra bold.
Some people I know say these things don't matter. But these things are often differentiators. I have surfaced people for screening because their cover letters or message in my inbox made me feel excited.
What will you change now about how you pitch yourself as you potentially explore new opportunities (freelance or full-time) in 2023?

Please feel free to reply to this email with requests for topics you'd like me to potentially cover. I will add them to my list of ideas!
---
Need more help from me? I'm launching this quietly to my newsletter subscribers only for now.
If you've ever wanted to pick my brain on a call or maybe you're already in my inbox asking your burning content questions—this is the place to get your answers.
I'm offering my email subscribers early-access and early-bird pricing to my Video Reply AMA for only $49 until end of January. I will be doubling the price in February.
Ask one burning content question
2. Get back an actionable video reply (subtitled and transcribed)
I'm only open for 4 to 5 replies per month and once they're gone, they're gone.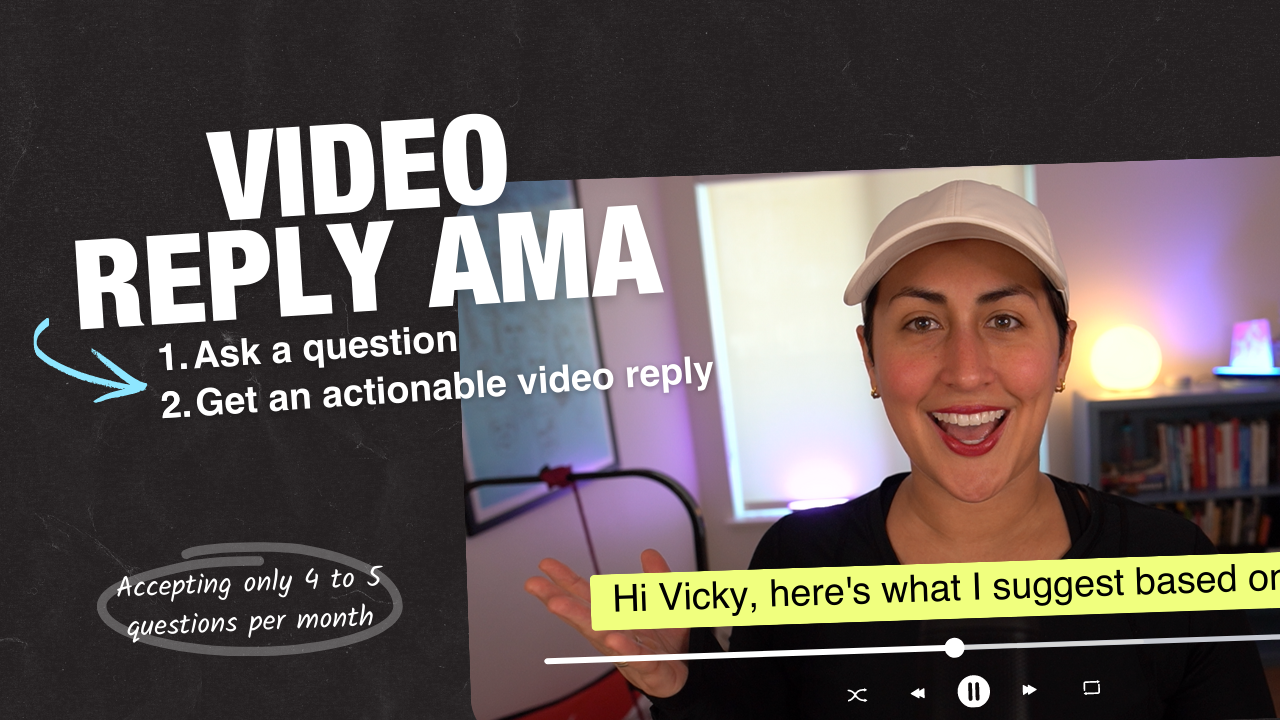 Video Reply AMA
Ask me one content-related question and get one insightful video reply in 3 to 5 days. The video will be subtitled and transcribed if you prefer to read.
Purchase on Gumroad